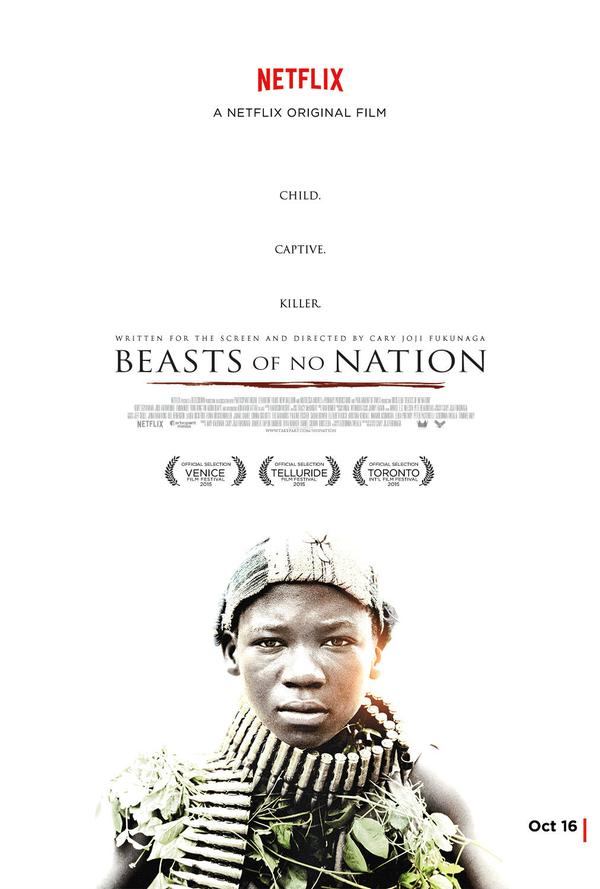 I read Beasts of No Nation after watching the movie. Written by a Nigerian author named Uzodinma Iweala in 2005, it came about as a continuation of Iweala's award-winning thesis in a creative writing course in Harvard, way back in 2004. It is a work of fiction based on true stories, and was an attempt to capture the life of a child soldier in an unnamed West African country. But really, Agu, the protagonist could have been any orphan in any war-zone in the world, brainwashed, abused and thrown into circumstances that are too horrible to comprehend for someone like me.
An excerpt from the book, the description of a child slaughtering a grown human being as a rite of passage. Enough to turn your stomach and make you want to curl up in a corner and cry. The narration and dialogue in the film follows the tone of this passage very closely, but is more linear than the book.
He is squeezing my hand around the handle of the machete and I am feeling the wood in my finger and in my palm. It is just like killing goat. Just bring this hand up and knock him well well. He is taking my hand and bringing it down so hard on top of the enemy's head and I am feeling like electricity is running through my whole body. The man is screaming, AYEEEIII, louder than the sound of bullet whistling and then he is bringing his hand to his head, but it is not helping because his head is cracking and the blood is spilling out like milk from coconut. I am hearing laughing all around me even as I am watching him trying to hold his head together. He is annoying me and I am bringing the machete up and down and up and down hearing KPWUDA KPWUDA every time and seeing just pink while I am hearing the laughing KEHI, KEHI, KEHI all around me. Then I am hitting his shoulder and then his chest and looking at how Commandant is smiling each time my knife is hitting the man. Strika is joining me and we are just beating him and cutting him while everybody is laughing. It is like the world is moving so slowly and I am seeing each drop of blood and each drop of sweat flying here and there. I am hearing the bird flapping their wing as they are leaving all the tree. It is sounding like thunder. I am hearing the mosquito buzzing in my ear so loud and I am feeling how the blood is just wetting on my leg and my face.
I thought the movie version was much more well-rounded. The cinematic experience is something you need a strong stomach to sit through, and not only because of graphic content. It is hard to not take it in as a guerilla documentary, shot among real people with a hidden camera, except that it is singularly gorgeous through and through. Some of my favorite scenes in the film involve Idris Elba and the photography. The kids, especially Strika and Agu are incredibly good, of course. Surprised to learn that the actors in the movie were former child soldiers and mercenaries who participated in actual warfare, and had problems shooting in Ghana because they were on a watch-list.