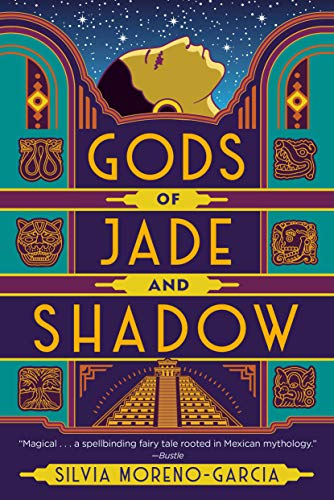 OK, so here's a book that reminds me of Neil Gaiman a lot. Part of it is the subject matter. The story is almost a primal narrative, brimming with character and story tropes spanning cultures. There are multiple references to fiction affecting reality, and how myths inform the present. There is even a talking raven.
"Words are seeds. With words you embroider narratives, and the narratives breed myths, and there's power in the myth.
Casiopea Tun dreams of doing her own thing, of escaping from a family that treats her and her mother as outsiders, wanting more than the hint of a thousand-peso inheritance from her autocratic grandfather. One fine day, Casiopea finds an escape from her life of drudgery through, of all things, a Mayan death god, who she awakens from imprisonment. She becomes a willing co-passenger to this deity on a journey across Mexico, as he seeks to regain his powers, his missing body parts, and his throne from his treacherous brother.
"You'll give me your name," he said as the station and the town and everything she'd ever known grew smaller and smaller. She adjusted her shawl. "Casiopea Tun." "I am Hun-Kamé, Lord of Shadows and rightful ruler of Xibalba," he told her. "I thank you for liberating me and for the gift of your blood. Serve me well, maiden, and I shall see fit to reward you." For a fleeting moment she thought she might escape, that it was entirely possible to jump off the tram and run back into town. Maybe he'd turn her into dust, but that might be better than whatever horrid fate awaited her. A horrid fate awaited her, didn't it? Hadn't the Lords of Xibalba delighted in tricking and disposing of mortals? But there was the question of the bone shard and the nagging voice in the back of her head that whispered "adventure." For surely she would not get another chance to leave this village, and the sights he would show her must be strange and dazzling. The pull of the familiar was strong, but stronger was curiosity and the blind optimism of youth that demanded go now, go quickly. Every child dreams of running away from home at some point, and now she had this impossible opportunity. Greedily she latched on to it.
If you remember the first eight issues of Sandman, the arc of the god Hun-Kamé's quest to regain the missing parts of his body follow a similar pattern, bargains and stand-offs (I was tempted to add 'Mexican' as an adjective there, but that wouldn't have made sense except as a cheap chuckle) and the occasional bloody confrontation against demons, wizards, and even a succubus. As in American Gods and Anansi Boys, there is the thesis that the gods and mortals exist in a co-dependent manner, and that the locale determines the power and relevance of a god. The monotheistic ideal of divinity is dismissed with a scathing sentence: "The god of your church, if he is awake, does not live in these lands."
The relationship between Casiopea and Hun-kamé takes center stage, as mortal and god give and take parts of each other into themselves. From the god of death, Casiopea learns that her problems with family were a tad more universal than she thought, and that control over one's life does not bring contentment. Hun-kamé, attached to the mortal world by the shard of his bone implanted in her hand, finds himself comprehending the nature of human existence. He gazes at Casiopea marveling at the beauty of stars and the ocean, and they converse about poetry and death, dreams and flowers. They are on the clock. The longer time passes, the more Casiopea finds her essence leeched away, while Hun-Kamé becomes better accustomed to his mortal body.
"Dreams are for mortals." "Why?" "Because they must die." Somehow this made a perfect sort of sense. The volume of Aztec poetry she had read was full of lines about dreams and flowers, the futility of existence. "That's sad," she said, finally. "Death? It is unavoidable, not sad." "No, not death," she said, shaking her head. "That you don't dream." "Why would I need to dream? It means nothing. Those are but the tapestries of mortals, woven and unwoven each night on a rickety loom." "They can be beautiful." "As if there's no other beauty to be had," he said dismissively. "There's little of it, for some," she replied.
Silvia Moreno-Garcia nails the tone. The book is dedicated to her grandmother, and the story is narrated with the sort of omniscience that elderly tale-smiths possess, an ability to talk about the innermost workings of the heart and to soak you in the atmosphere of the setting. In this case, Mexico in 1927, which comes alive in all its sun and dust.
Mexico City in the 1920s was all about the United States, reproducing its women, its dances, its fast pace. Charleston! The bob cut! Ford cars! English was sprinkled on posters, on ads, it slipped from the lips of the young just as French phrases had once been poorly repeated by the city folk. A bad imitation of Rudolph Valentino, hair slicked back, remained in vogue, and the women were trying to emulate that Mexican wildcat, Lupe Vélez, who was starring in Hollywood films. The pace was absolutely insane in Mexico City. Everyone rushed to and fro, savage motorists banged the Klaxon looking for a fight, the streetcars drifted down the avenues packed with sweaty commuters, newspaper vendors cried out the headlines of the day at street corners, and billboards declared that you should smoke El Buen Tono cigarettes. Kodak film and toothpaste were available for sale in the stores, and, near an intersection, a poor woman with a baby begged for coins, untouched by the reign of progress and modernity.
As with the real world, Moreno-Garcia paints the fantastic world of Xibalba in surreal imagery with her words, making the realm of death (pun intended) come alive in your mind. Once again, shades of the Dreaming from Sandman.
Xibalba, splendid and frightful, was a land of stifling gloom, lit by a cheerless night-sun and lacking a moon. The hour of twilight did not cease here. In Xibalba's rivers there lurked jade caimans, alabaster fish swam in ink-black ponds, and glass insects buzzed about, creating a peculiar melody with the tinkling of their transparent wings. There were bizarre plants and lush trees, though no flowers bloomed in the soils of the Underworld—perhaps some had, at one point, but they'd long withered. These were all bits of dreams that had taken physical shape, but the nightmares of mortals also abounded in the fabulous landscape of Xibalba.
Before I read the book, I was told that it's slow-paced and that "nothing really happens". I am not sure what the detractors were looking for, the pacing was deliberate and measured. The road trip does not feel repetitive, and the slow-burn change in the relationship between the two protagonists is organic, as is the realization of the duality in the actions and motivations of mortal and deity. The quest is not just that of one god and his acolyte, but is mirrored by his rival and brother Vucub-Kamé, who had imprisoned Hun-Kamé many years ago to occupy the throne of Xibalba, and his followers. Specifically, Martin, Casiopia's cousin and bête noire, whose aggressions, both micro and macro, were among the main reasons she fled from her hometown. And there too, the writer weaves in surprising plot twists. Was Martin really all that bad, we find ourselves wondering, or was he weak, his frailty possessing him to be jealous of Casiopea's strength of will?
Like in a good story about gods and myth, this one also features the use of prophecy as a storytelling device. Vucub-Kamé is gifted at foresight, and in multiple sequences, ex-sanguinates and eviscerates various animals to understand what the future holds for his reign. The answers he sees are unclear, but it is Casiopea's presence that is the most confusing for him. At the same time, there are disturbing visions that appear in our lady protagonist's dreams, of blood and death in the city of Xibalba. Hun-Kamé warns her about the power of words and stories, and his recalcitrance to speak about the myths she knows, of him and the stories around him, further muddy the path ahead.
All of these separate threads come together incredibly well in the end-game. Far better, I would say, than Gaiman's American Gods ended, if we are still comparing. The winner of this game of throne is decided not by gods wielding bolts of magic and blood, but by the choices and actions of their champions. The overall theme, that of gods depending on mortals for both their existence and sustenance, is something that is a recurring theme in both Sandman and the prose works of Gaiman. Moreno-Garcia adds a delectable layer of romance and a historical milieu that make it more than just another twice-told tale. The four principal characters have distinct voices and motivations — Casiopea's distaste for her fate and headstrong demeanor contrasting against Martin's obedience to his grandfather, and Hun-Kame's self-assured hauteur plays well against Vucub-Kamé's insecurities. The decisions that drive the ending are laid out wonderfully across the story. We hold all the pieces, and once events transpire, we see how descriptive paragraphs like this scatter clues in plain sight.
Mortals believe gods to be omnipotent and ever-knowing. The truth is more slippery; their limitations are multiple, kaleidoscopic, and idiosyncratic. Gods cannot rudely move mortals like one moves a piece across a game board. To obtain what they wish gods may utilize messengers, they may threaten, they may flatter, and they may reward. A god may cause storms to wreck the seaside and mortals, in return, may raise their hands and place offerings at the god's temple in an effort to stop the hurricane that whips the land. They may pray and bleed themselves with maguey thorns. However, they could also feel free to ignore the god's weather magic, they could blame the rain or lack of it on chance or bad luck, without forging the connection between the deity and the event. A god can make the volcanos boil and cook alive the villagers who have made their abodes near its cone, but what good is that? If gods destroyed all humans, there would be no adoration and no sacrifice, which is the fresh wood that replenishes a fire.
Among all its virtues, most of all its inherent readability, this book provided a great introduction to Mayan myth and encouraged me to look more into Popol-Vuh. I am intrigued by the story of the Hero Twins, alluded to throughout this book. Also, Moreno-Garcia seems be a genre-surfer par excellence — her other books include one that's described as Lovecraft meets the Brontes in Latin America, another that combines music and magic in Mexico City, yet another that's a magical romance set in a world inspired by France of the Belle Epoque. A lot to dive in, in the coming months.