I've done it twice so far, each time with a different set of friends, and it has been different both times. A distillery tour that is very different from what you might expect. Lost Spirits is a chemistry experiment occurring in the world of alcohol, one that seeks to recreate flavors of beverages such as whisky, rum, and brandy by aging chemicals in reactors instead of, as distillers do, in barrels. The difference is time — what traditionally takes years, even decades, happens in six days here. The result is a stunning opportunity to experiment with flavors and distillation processes, giving them a startup-y vibe when it comes to their products. It would be one thing if they were just mad scientists trying to keep up with the big boys, but the weird thing about these guys is that their drinks are really. Fucking. Good. They have won multiple awards for their bottles of whiskey-equivalents and rum-equivalents (with names derived from The Island of Dr Moreau), but what really takes it to another level is their distillery tour. Part amusement park ride, part loopy-DIY craziness, all fun, the tour started as a way to entertain friends of friends, and then proceeded to become a little-advertised, word-of-mouth phenomenon with tickets sold out months in advance.
The venue has changed between my last visit and this current one, which happened this Sunday. Among the few differences — a longer boat ride, a more convoluted maze, a brighter look and feel, two bus rides, one with an steampunk underwater theme, and the other with a French cabaret vibe. Turns out that an accidental electrical fire at their older venue got them to dream bigger, and implement better.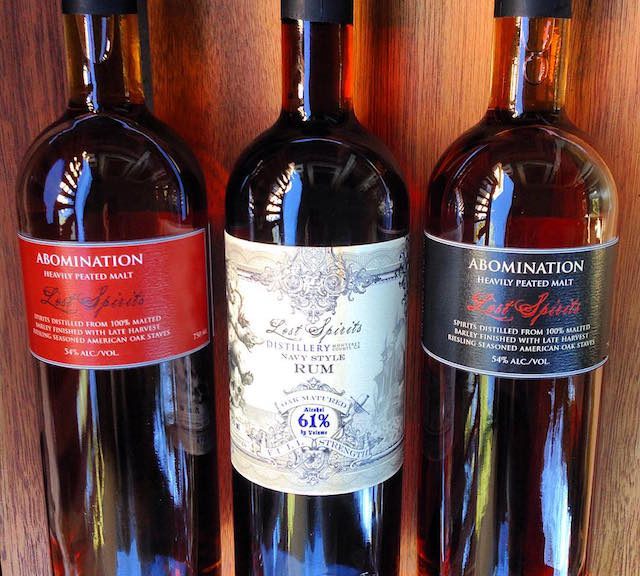 But seriously though, both the place and the concept are still incredible, the second time around. The aesthetics of the place combined with the alchemical wizardry these guys bring to their spirits knock my socks off. Their stories are fantastic, including their quest to recreate the original Mai Tai cocktail. You see, the original cocktail was created to highlight the flavor of a J Wray and Nephew Jamaican rum batch that was aged 17 years during the Prohibition years and lost the company a great deal of money. The cocktail, Vic Bergeron's concoction, deemed "out of the world, the best!" by patrons from Tahiti (translated from 'Maita'i roa a'e, ergo the name) became super popular, while that particular batch of rum ran out. Tiki fads and the onset of commerce took its toll on the mai tai, and today's version is considered much, much different from the original.
I don't want to rob the Lost Ones of their chance to tell the story themselves — it's a highlight of the tour, after all. Suffice it to say, the adventure involves an endangered species of trees, a fifty-thousand dollar bottle, an antique dresser, smoke damage from a fire, and of course, experiments galore. By the time we arrived at the last quarter of the trip, exit through the gift shop, I had whipped my credit card out to jump on the 'Cry of the Puma', my favorite among the whiskeys. And the rhyming birds just added to the fun, one of the few things that hadn't changed from my previous trip
Keep it kooky, Lost Spirits, and….uh….could I get a refill please?
For further perusal: