Today morning, this came up on my YouTube Feed.
While the placeholder image on the video says "Full Interview", it's actually the reading of the complete movie Scott Pilgrim vs The World, with narration, digital effects, soundtrack, and a whole lot of fun. I know the movie well enough to figure out which bits were chopped (no 3-second song, no other-Scott, Wallace, and Scott sandwich on the futon). Some members of the cast couldn't make it so others filled in for their roles (Anna Kendrick launches into Envy's role with panache, and Satya Bhabha does a mean Young Neil). Other observations:
Aubrey Plaza continues to cement her status as Batshit Insane Diva, with stellar use of props, loudness, and timing
Chris Evans' eyebrows deserve an Academy Award
Michael Cera actually sings and plays the guitar on camera
And Brandon Routh plays the bass (lolwut)
Not sure who deadpans better – Mary E Winstead and Alison Pill
Bryan Lee O'Malley live draws key characters at different points of the reading, the man can fuckin' draw
Belly-laughing for one and a half hours is an excellent way to begin a work-week
This movie is a modern-day miracle. It was a failure in theaters when it came out, and yet ten years later, it is a movie that refuses to disappear from public memory. People come across it in different platforms and in different ways. A midnight screening, a streaming platform, an animated gif or a quote that lead them to find out about the movie. And they fall in love with it, and proceed to share the love with others. The result has been a film that has gained an ever-expanding circle of fans over the last decade. Obviously it also helps that the graphic novel is still as relevant, and the release of a recolored version has but added to its appeal.
The cast of the film have all gone on to do bigger and better things, and it's a wonder how the makers got this talent package to come together in this one lightning-in-a-bottle production. I mean, just look at the roster — Michael Cera, Mary E Winstead, Anna Kendrick, Alison Pill, Kieran Culkin, Chris Evans, Brandon Routh, Brie Larson, Jason Schwartzmann, Bill Hader (the Voice), Aubrey Plaza, Mae Whitman, Johnny Simmons, Ellen Wong. The only other ensemble cast I can think of that has gone to somewhat-equivalent cumulative stardom would be the TV show Freaks and Geeks. And for the record, even that was cancelled after one perfect season.
As a comic-book movie, Scott Pilgrim is positioned in a rarefied overlap of faithfulness to the source material with a visionary onscreen interpretation. This was 2010, where comics had not yet taken over the world, and the Marvel machine was in its infancy. There was still the two schools of adaptations, the first being those that slavishly translated from page-to-screen with visual effects cranked all the way up to 11, with examples like 300, Sin City, or Watchmen. The other end of the spectrum was complete directorial independence, leading to either excellent examples like The Dark Knight trilogy by Chris Nolan, creative disasters like The Green Hornet by Michel Gondry, or sound and fury blockbusters with no substance, like Michael Bay's Teenage Mutant Ninja Turtles.
Edgar Wright took the essence of the books — its romance-meets-action comedy zaniness, the video game and indie music references, the bildungsroman tropes, and proceeded to sizzle it all together using Wrighteous alchemy. You know, the stuff that makes him a film-maker par excellence. The quirky cuts, zoom shots and montages, the use of music and score to incredible effect, the painstaking attention to detail and the use of intensive story-boarding to break down scenes. Edgar went the distance, and made his actors do the same. One example, referenced in the video above, was about him preventing the cast from blinking during the scenes to make it more like a comic-book. The end result is a movie where the actors revel in the sheer outrageousness of the proceedings and deliver lines with both flawless timing and improvisational tics, visual and text effects bounce across the screen in perfect synchrony, and we the audience are whisked away to find ourselves completely immersed in the strange and mysterious land of Toronto, Canada.
Here's another wonderful thing about being released in 2010. If this was to be adapted in 2020, it would probably become a multi-season TV show, or at least a film trilogy. There was no way a studio would let such a mass of content be squandered on a single two-hour movie. It is our good fortune that Wright was around to pick it up at exactly the right moment and do right by it, making a perfect product of its time.
Two of my favorite Scott Pilgrim stories are from the commentary track on the bluray, with director Edgar Wright, writer Michael Bacall and creator/graphic novelist Bryan Lee O'Malley. Wright of course kept O'Malley in the loop throughout the making of the film, using his input even as the creator was working to finish his series. The original ending of the film therefore was written by Bacall and Wright differently from the books, with Scott finally ending up with Knives instead of with Ramona. O'Malley asked for the ending to be changed to that of the book, since that was what he intended the story to be all along, about Scott and Ramona trying to work out their relationship and give it a fresh go. Wright agreed. The alternate ending can be seen here.
My second favorite Scott Pilgrim story is to do with Twitter and sweet vindication. So the week the movie released, it came in fifth at the box office. Fifth! All the way behind Expendables, Eat Pray Love, The Other Guys, and Inception. Seth MacFarlane, he of the cerebral Ted fame, decided to rub it in on Twitter, saying "Scott Pilgrim 0, the World 2". This was Wright's response to that tweet.
I was like, f*ck you. And I lay in wait until 8 Million Ways to Die in the West came out, or whatever it was called, and I rubbed my hands with glee. I didn't tweet anything because I'm not a total monster. But Monday morning Michael Moses sent an email with three words. It was one of the sweetest emails I've ever gotten from anybody in the industry. It said, "Years, not days."
Nobody, obviously, is doing a ten year anniversary celebration of Expendables or Eat Pray Love. I wasn't able to remember who the lead actors of The Other Guys were. On the other hand, I have lost count of the number of times I have re-watched Scott Pilgrim vs The World. I got my blu-ray copy signed by Edgar Wright at Amoeba a few years ago, and of course, by this time I can basically quote the movie beginning to end. Envy Adams' "Oh yeah? Oh YEAH!" call echoes in my head every time I am about to write code, or do something challenging. "Your BF's about to get F-ed in the B" is a line I used one day and promptly exploded into laughter before finishing it. I had a grin when I walked into the Toronto Public Library last year. A couple of years ago, I would bump into Bryan Lee O'Malley in random movie screenings around Los Angeles. Which has nothing to do with the movie but is a cool Los Angeles perk that I thought I would throw out there.
One of the things that I want to verify someday, and I am not sure how that is possible, is my thesis that the original trailer to Scott Pilgrim vs The World is maybe the first to use this now-popular trend of cutting action scene effects to the rhythm of the background music. Check out the part of the trailer where the Prodigy's 'Invaders Must Die' kicks in, around 1:45. Wright would go on to use this in Baby Driver tremendous effect, and nowadays trailers have overused this to the point of cliche. But in 2010, this was the bomb.
Here is a tale of regret and self-loathing. In 2012, Bryan Lee O'Malley visited San Diego Comic Con. I was there. I waited in line to get my books autographed by him, and bought the slipcase and poster that came along with it. I asked him if he had any original art. He said yes, and showed me this.
Dear reader, it haunts me to this day that I did not buy this page immediately. I bought two pages from Eddie Campbell instead, and a couple of other items. What stopped me was that I had a dream image in mind, of owning a Pilgrim page that included all or most of the cast. Just owning this would not have fit the bill.
It was only when I came back home and opened up my copy of Scott Pilgrim's Precious Little Life, the first volume of the series, that I realized that this was the very first image of Scott in the book. Other than the cover, this would be most iconic image. It was also the image sort of used in the film poster, if you squint real hard. It was even used as a Mondo print two years later, which made me groan even more.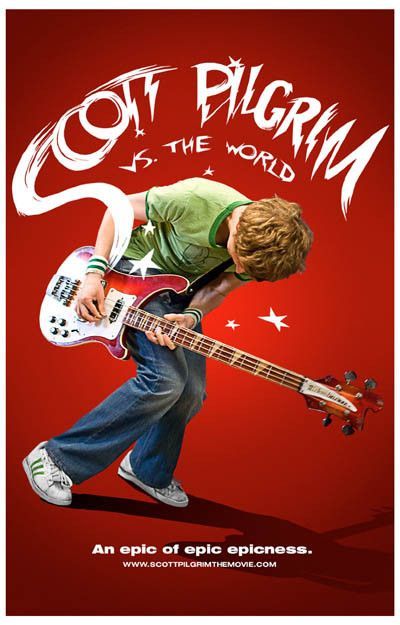 However, instead of ending the post on a bum note, let me show you the Scott Pilgrim original that I actually got. It fulfilled the mental criteria I had for the piece. It was even published as a print, too, thereby lowering my bar for envy at loss of the earlier piece, and what makes it even more special is that it's a riff on a classic game poster, Puzzle Fighter, pictured below. When I bought it from Bryan's art rep, the wonderful Felix Lu, he also mentioned that this was the biggest physical piece of art that Bryan had ever produced, at a whopping 16 by 24 inches.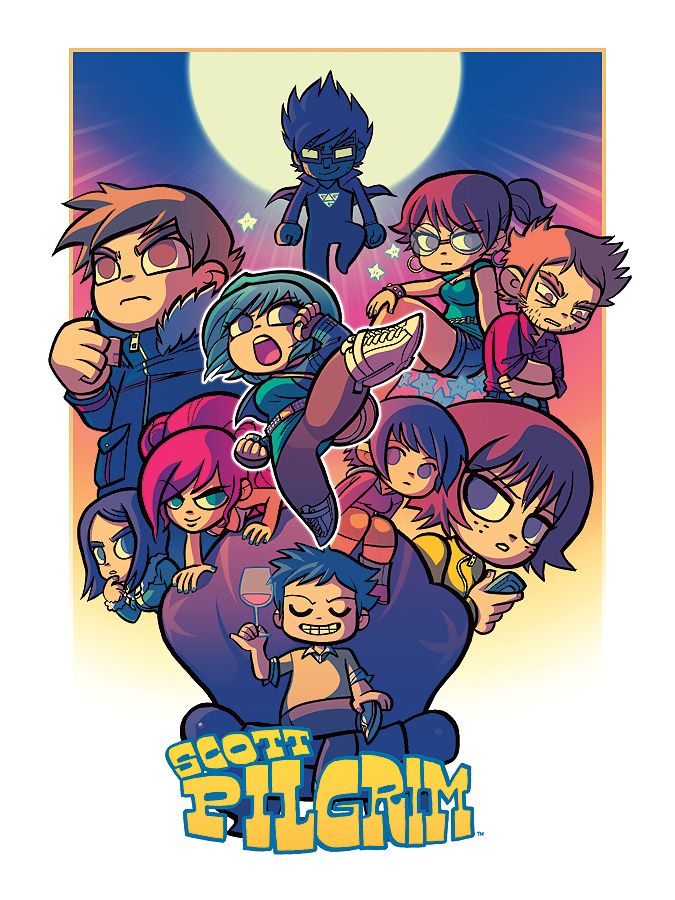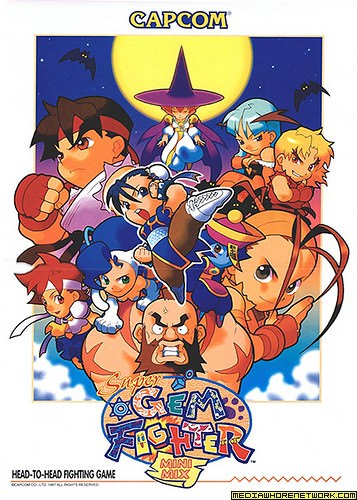 P.S The table reading was done as a charity event for Water For People. You can donate here: https://www.waterforpeople.org/pilgrim/
Also read: The AV Club discussion about Scott Pilgrim.