You get all kinds of DVDs at National Market. Especially blockbusters, the kind of big-budget movies that go on to make a lot of money and win awards and all that. All three of the Lord Of The Rings movies have been available at National Market, and in different formats too. You can get the fullscreen versions, the widescreen versions, all three movies in one disc, all three movies PLUS Spiderman 1 and 2 on the same disc, or if you are really feeling adventurous, all three LotR movies and the three Harry Potter movies in the same disc.
Me? I was feeling a bit more adventurous.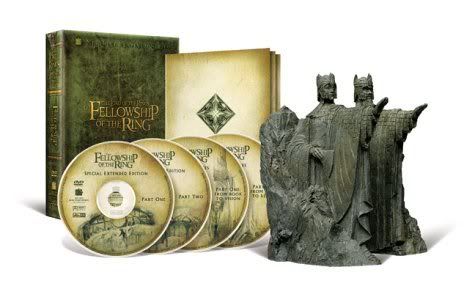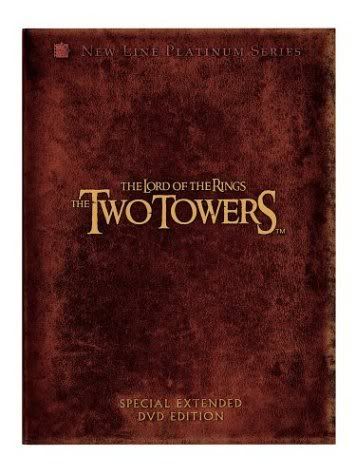 Got the Extended Platinum Collectors' Gift Set of Fellowship of the Ring delivered on Saturday. Comes with 4 discs plus 1 bonus disc which is a series of National Geographic documentaries on the making of Lord of the Rings. Yummy. As the picture shows, the package was supposed to have two beautifully-carved sculptures as bookends; unfortunately, the package I got has only one. I dunno whether to blame secondspin.com or the Indian Customs Department for this. I paid 40$ for this.
The package also had:
The Extended 4-disc edition of The Two Towers. Four disc-set.
And Lucio Fulci's Zombie, heh heh heh.
Ennio Morricone's soundtrack for Wolf.
Flaming Star by Sally Oldfield.
A Sigur Ros CD+DVD pack which cost a mere 1.99$.
The best thing? Free shipping! Muhuhahahahahaha!
Other things I bought last week: The DVD of Dil Chahta Hai (2-disc Edition) The double disc edition brought out by Sony is fast going out of print, the only one I can see at the Planet M/Music World outlets now are a very pirated-looking single disc version that sells for 400 Rs. The 2-disc set cost me 500 Rs. The extra disc has got a couple of unmastered deleted scenes, a "making of" where everybody kisses everyone else's asses, and a couple of theatrical/TV trailers. Why did I buy it? Because I needed a version of DCH that has all the songs mastered properly. One with a proper image transfer ( T-series had brought out an atrocious VCD that totally sucked. I had a pirated VCD sometime back which was of better quality than this legit version, honest injun! )
And of course, I bought it because it's one of my favouritest movies, ever.
Also picked up a 256 MB GeForce card for the PC, and now I am playing the Punisher like crazy. One thing I loved about this game is the way they have brought in Ennis's scripts and characters, and in some cases, even the dialogue. Next Up: Half Life 2, and GTA: San Andreas.