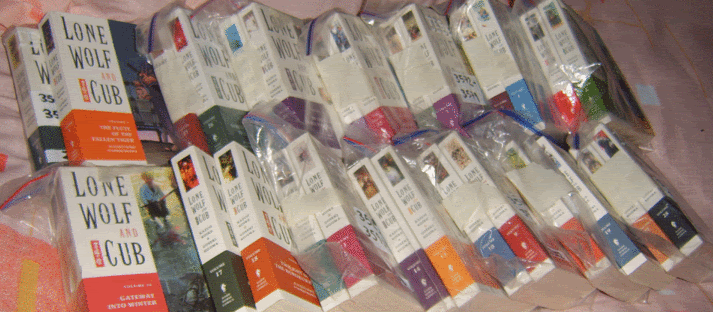 I just finished reading 28 volumes of Lone Wolf and Cub. Rereading, rather – I had completed reading the scanned versions sometime last year (well, alright, also the 45 issues that First Comics had reprinted in the eighties, and which I had bought earlier. ). But that was not sustained reading, I was reading the early volumes at the rate at which the kind brainz was downloading them off Emule ( One volume every four days, downloaded to his server, from where I would have to download it to my computer at home, on a painfully erratic 64 kbps connection) And then I discovered bit-torrent, and found the first 23 volumes in a single gigatorrent. Got them, read them all, and stalked zcultfm patiently until volumes 24-28 were uploaded by some samaritan.
I bought the complete lot off eBay last December, from a guy in London at a ridiculously low buy-it-now price, and he waived shipping charges for the lot if I could arrange a personal pickup. My sister came to the rescue, but the books were stuck with her until last week. Oh, the agony. The irony being that bookstores in India began stocking Lone Wolf and Cub volumes since February. Yes, I could have bought them all here, but they would have cost me a lot more, and not all of them were…ahem….first prints.
I finished the first 13 volumes in a single sitting at Delhi airport, taking occasional tomato soup-and-coffee breaks to soothe the hyper-charged mind. Could not really continue with the rest when I got back to Hyderabad, but managed to get to volume 20 by yesterday. Could not control myself any longer, and finished the last 8 volumes today. And now there is this melancholy feeling that refuses to go away – you understand the feeling, right, the thought of "darn, why did it have to end?" and "What do I do next?" and the general hangover of the journey itself, nearly 9000 pages with Ogami Itto and Daigoro on the road to Meifumado.
I could rave about the series and Koike and Kojima's storytelling prowess, but I am just. Too. Blown. Away right now.
Which reminds me, I also finished eight out of ten volumes of Samurai Executioner, also by the same creators – ironically, the fate of Yamada Asaemon, the titular character of Samurai Executioner is revealed in one of the early volumes of Lone Wolf and Cub. If you find volumes eight and nine of the series, do let me know. Those are the ones I do not have right now – Blossom bookstore in Bangalore stocks Samurai Executioner only until volume 7, while the shop I went to in Delhi had volume 10, but no volume 8 and 9. Darn.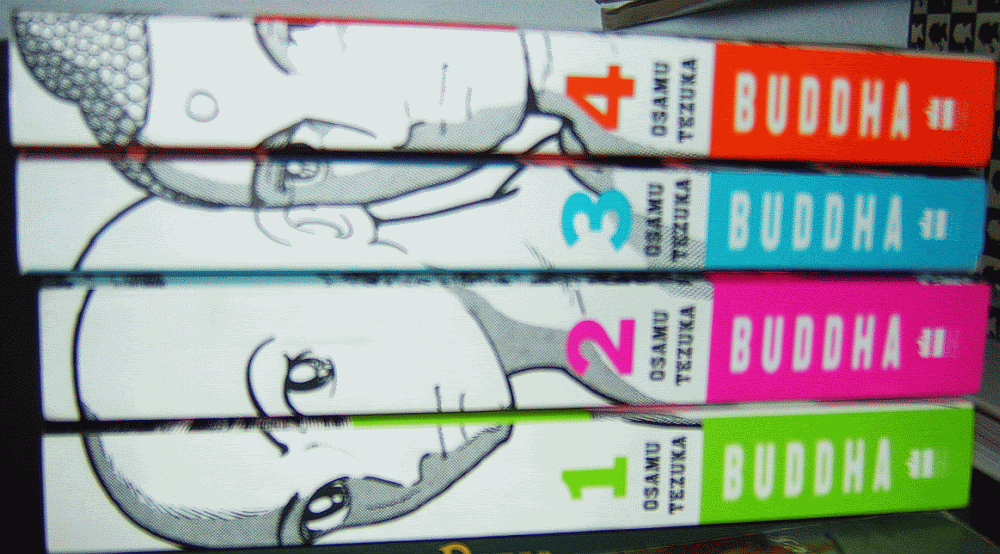 What am I going to read next? Easy. Osamu Tezuka's Buddha, four volumes of which I bought in Delhi, and which I have been dying to read ever since Andrew Arnold raved about them on Time.com. This will be my first Tezuka, and from what I have seen so far, is going to be quite a different read from both Lone Wolf and Samurai Executioner. Now if only I find the next four volumes without much of a fuss….
Quick trivia: Goseki Kojima and Osamu Tezuka were born on the same day – November 3, 1928. What Enishi!