I know, I know, a third post on the same topic seems like a momentous occasion. My previous attempts to serialize any thematic content have crashed and flamed –– search for 'Lone Wolf and Cub', as an example. But this will be the last post on Stephen King collectibles, I swear. At least for now.
The Third Book
The Shining, Subterranean Press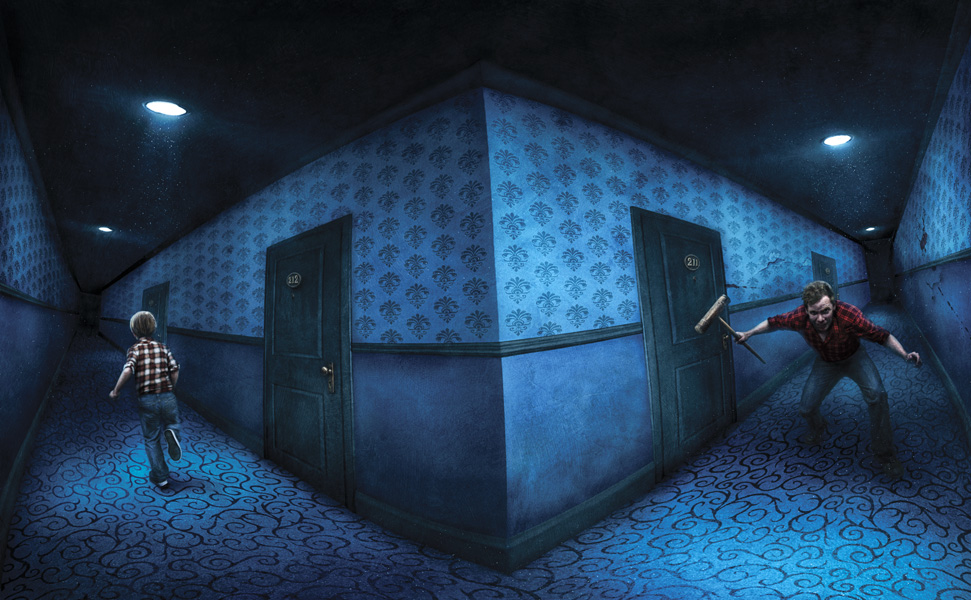 I believe I have talked about The Shining and all that it led to at least seven times on the blog, so no more of that. Once I began my journey into SK collectible territory, there was no doubt this book had to be part of the collection. But this is where reality and the intricacies of the market come into play.
The limited signed edition was published by Subterranean Press, a Michigan-based specialty press that I have talked about in the past. This edition came with a bit of controversy before and during its publication. The original illustrator (Gabriel Rodriguez, of Locke and Key fame) was replaced by Vincent Chong. Early copies shipped out to buyers had significant issues such as rubbing, spotting, and color transfer problems. The publisher had to issue a dust jacket and send it out to buyers, along with a gift card for a future purchase and replacement tray-cases for copies that had the color transfer issue. (Details here)
Subterranean Press's The Shining
The Subterranean limited release has 750 copies, signed by King and Chong. The book and the tray-case are beautiful, high-quality deckle-edged paper and print quality. The cover is minimalist, with beautiful patterns on a background of blue. Chong's illustrations pop out on the color pages, and there was even an accompanying sketchbook that contained preliminary pencil pieces.
But the lack of any extra material is a disappointment. No preface, no afterword, no essay, or deleted material. What really got my goat is that as part of the Doubleday Years reprints that a different publishing house, Cemetery Dance was bringing out, this book got a different, unsigned deluxe release, one that was more desirable than the SubPress version. Why? An email from CD explains:
We have some AMAZING news to share. As you know, Stephen King has graciously allowed us to restore his long lost, 40 page prologue called "Before the Play" to the beginning of the book. It has never appeared in any edition of THE SHINING anywhere in the world and may never be reprinted again.
In the weeks since the book sold out, something even more incredible has happened. A collector named Jon Page contacted us because he had something very special in his collection: an earlier draft of the manuscript, when it was still called THE SHINE, which had been sent around to Hollywood production studios to sell the movie rights before the book was published.
This manuscript includes HUNDREDS of sentences, paragraphs, and even scenes not included in the final book we all know and love. Of particular interest is a four page section toward the end known as "After the Play," which even Stephen King believed had been lost forever because he didn't have a copy in his archives.
Thanks to Jon's amazing discovery, and Steve's generous permission, all of this Deleted Material will now be included as Bonus Section in our special edition of THE SHINING, which you already have on order. You do not need to do anything to confirm you are receiving this material, it will be in every copy of our edition.
Adding this material will take about two weeks of additional production time, but it means this version of the book will be as definitive as possible, which should make it an even bigger hit with collectors for years to come. A HUGE "thank you" goes out to Jon and Steve for making this addition to the book possible.
This was in addition to a foreword by King, and an afterword by Mick Garris, the director of the TV adaptation of the book. The TV miniseries, by the way, was King's attempt to outdo Kubrick's version, which he hated. The Cemetery Dance edition was also illustrated by Don Maitz and Glenn Chadbourne, and all in all, looked just as fancy as the SubPress edition. Except, like I said, it was unsigned. Well, there was an 'Artist Edition' signed by the illustrators, but no King signature.
So this is where one needs to make hard choices –– what truly is a 'definitive' version? Is it the author's endorsement? Or is it something that contains all paraphernalia associated with a work? The heart says the former, the head the latter. I did end up buying the Subterranean Press version on eBay. Even got a limited UK edition of Doctor Sleep to go with it, signed by Stephen King with only 200 copies published. But oft in the gentle night, ere slumber's chains have bound me, I find myself looking at Cemetery Dance listings on eBay. To sum it all up in a thousand words: