For the sake of my sanity, I avoid being emotionally invested in the Oscars every year, and use it primarily as a checklist of movies that escape my radar every year. Los Angeles also brings it with it an incredible selection of free screenings during Oscar season, most of which are accompanied by interviews with the director or the cast. Of specific note, these past few years, has been the Best Animated Films nominations. The award has, with the exception of last year, been won by a title backed by a powerful studio – usually the predictable, family-friendly crowd pleasers. But the nominations for the category prove to be fertile hunting ground for titles that I wouldn't have noticed.
In 2016, for example, I saw The Red Turtle. It's one of the few movies I bought digitally, at full price — and trust me, that's a big deal for me. A Belgian production that was distributed internationally by Studio Ghibli, the film lost to Zootopia. I don't think the winning title was all that bad, but placing a work as emotionally hard-hitting as Red Turtle on the same platform as that unsubtle, pun-ridden roller-coaster was a travesty.
Coco won in 2017, beating the visually spectacular Loving Vincent. To be honest, I love Coco, it was one of the few animated movies that made me bawl. It was also Pixar making a two-punch comeback, along with Inside Out, after years of mediocre offerings and half-hearted sequels. But the sheer visual chutzpah of Loving Vincent sets it apart. More than 100 artists painted individual frames in Vincent Van Gogh's style to animate the story, 43000 paintings in all. The Aero in Santa Monica screened the film with the directors present for a Q&A afterwards, and the passion with they approached their project, which ended up taking 9 years to go from an animated short to a full-fledged feature film, gave me goosebumps.
(Also, looking at the previous award years, Wallace and Gromit beat out Howl's Moving Castle? Big Hero 6 beat Song of the Sea? Fucking Rango got the nod over Chico and Rita and A Cat in Paris! Frozen beat The Wind Rises. If I was a little more delicate, I would be calling for smelling salts right now)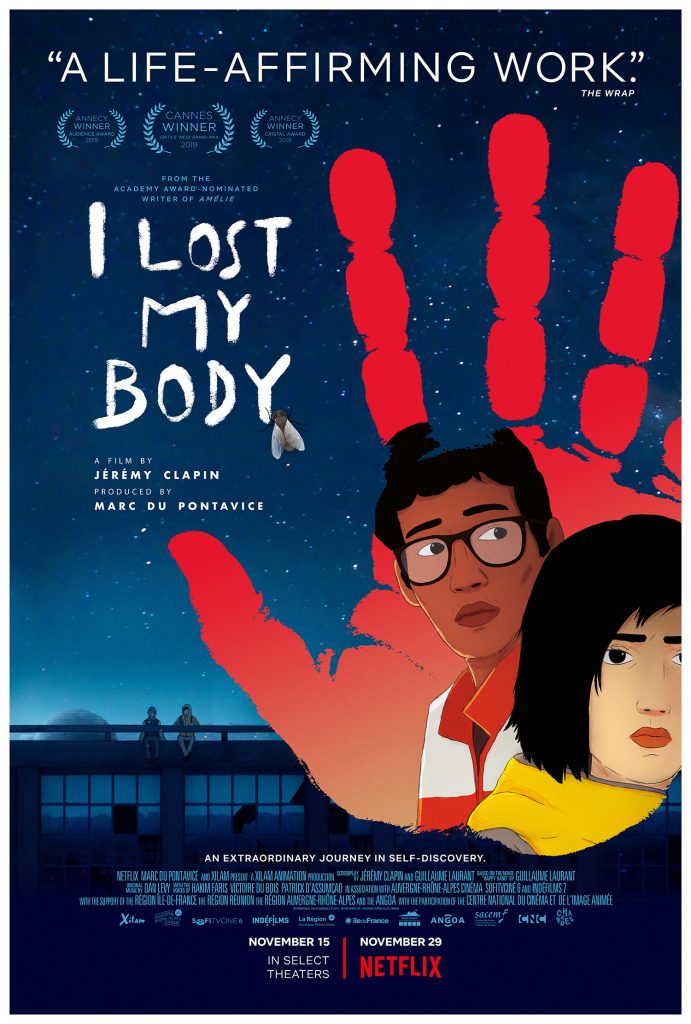 This year, I saw the passion project that will probably not win, but is a spectacular offering in the category — the French animated film I Lost My Body, with a story adapted from a novel called Happy Hand, by Guillaume Laurant (who wrote the original book on which Amelie was based). It is, on the surface, a surreal journey of a disembodied hand that tries to find its owner across the city, an epic adventure filmed at angles and perspectives one does not encounter in conventional animation. It is the story of Naoufel, a broken young man, and about how he comes to terms with loss, in more ways than one. The film talks about destiny and choice, of connections, to one's past, to humanity. It also has, surprisingly, a romantic subplot, one that begins with ten minutes of conversation via an apartment security system. Tread carefully, though, because Jeremy Clapin has a tendency to unsettle.
I Lost My Body is that rare film that goes in completely unexpected directions, and as the non-linear narrative comes together, a spiral of flashbacks and foreshadowing that culminates in a fifteen minute climax, you will find yourself holding your breath until the screen fades to black. And then maybe you find your eyes wet, or that could just be me.
Oh, and turns out the mesmerizing soundtrack, with its haunting recorder melody backed with orchestral strings and repeating synth patterns, was composed by Dan Levy. Dan is the 'D' in the band The Dø , one of my favorite French outfits and one whose next album I've been waiting for 5 years. It was fascinating to hear Jeremy talk about how Dan refused to look at the visuals and 'audition' for the role of composer, when asked. He instead composed 20 minutes of music based on the brief story narration Jeremy gave him, to give an idea of the mood he was going for. That worked perfectly with Clapin's sensibilities, and fit the narrative in a way that traditional scoring wouldn't, imbuing the story with a pathos and a grandeur that is nothing short of extraordinary. Small wonder then that I have been listening to it on repeat the last two days.
The contenders this year, other than I Lost My Body, are Toy Story 4, How To Train Your Dragon: Some Vapid Sub-heading, Klaus, and Missing Link. I would dismiss Dragon and Missing Link outright. Toy Story 4 is running on Pixar goodwill fumes and may be the one to win. Klaus is the interesting one — it is also a Netflix exclusive, like Body, and has been winning awards in the same circuits as the latter. Both won at the Annies, with Body winning the best Indie Animated feature, while Klaus walked away with the overall best animated feature. But on the other hand, Body won the Nespresso Grand Prize at Cannes (the first animated film to ever win this). My gut feeling is that Klaus may win just because it's the more family-friendly of the two, and that follows the historical trend. We'll see in a week.