2010  has been a good year for art.
I refer to 'comic art' by the way, not art as in music or drama or art art, if you know what I mean. To be even more specific, I refer to my small collection of comic art,  something which has taken up quite a bit of my daily life. Hello, I am a Comic Art Addict and proud of it.
At the beginning of last year, I was fairly convinced that there was one great piece that I would buy. It was a page that I saw when I was in LA towards the end of 2009, in a friend's collection. I was at his place, and he had just finished showing me the pieces on his wall, and then remembered a bunch of stuff that had just been framed but were not up on the wall yet. It was a page from one of my favorite comics, Neil Gaiman's Sandman.
A brief word on the art of Sandman – in course of its 75 issues, the series had a tremendous line-up of artists, some extraordinary. most of them good, a few pretty middling. In most cases, the bad printing process on the series – remember that this was the late 80s/early 90s, where comics were just beginning to get used to computer coloring, and the quality of the paper, while not the cheap newsprint quality 'mondo' format from the 60s and 70s, was still far from the glossy format you young punks are familiar with today. So some of the printed art came out muddy and ugly, which ruined some of the artwork. Especially the work of Mike Dringenberg. Dringenberg was co-creator of the Gaiman run on Sandman, he inked Sam Kieth's work in the early issues, and when Kieth moved on by the end of the first arc, Dringenberg took over the pencilling duties, along with inker Malcolm Jones III. Because of the aforementioned quality issues, I never really appreciated Dringenberg's work all that much – and was glad when Kelley Jones, who was to become one of the all-time great Batman artists by the early 90s, took over the acclaimed Season of Mists arc. Dringenberg pencilled the first and last issues of Season of Mists, and that's it. He moved on from comics work, apparently, going on to illustrate children's books and album covers.
The first chapter of Season of Mists, issue 21, was the first in which six of the seven Endless make their appearance. So far, readers had seen Dream and his sister Death, and there were hints dropped by the writer about the fact that those two might have other siblings. The introductory sequence in that chapter had an interlude of sorts, where Gaiman wrote brief essays about the six Endless, choosing to omit the Prodigal (we are to find out later that it's Destruction, who abdicates his position). Desire and Despair on one page, then Destiny and Delirium, and finally Dream and Death.
This last 'interlude' page was the one my friend owned.
I had to sit down. Because the art was so brilliant, so delicate and otherworldly that it made my knees weak. The expression on Death's face, the bubbly water-color shadow that Dream cast behind him (later, when I held the page in my hands, free from the framing glass, I saw that Dringenberg had used glossier paper pasted on the bristol board – probably to enhance the watercolor effect), and the overall  My friend had asked me a few weeks ago about which page from his collection I liked the most, and I had, without hesitation, mentioned one that had struck my fancy. At the moment I saw the Sandman #21 page, I changed my mind, and I told him so. He smiled, and said that if he was ever going to sell this page, I could buy it from him at the price he had originally bought it for. Which was a lot, obviously. But yup, if there was ever a gotta-get-this-or-I-shall-regret-this-forever moment for me, it was when I saw this page. So I agreed.
A lot of collectors do not like artwork that has been personalized to other people. This page has both Gaiman and Dringenberg addressing someone named 'Jordan'. Gaiman has the words 'First you dream, then you die' scrawled before his signature, while the artist just let his art do the talking, and says 'For Jordan'. I do not mind. Jordan, whoever you are, thank you for keeping this page in  your collection and selling it to the right person who sold it to another right person.
Because 12 months later, I am the owner of the page.
It took some careful budget management, and much brain-ache. In the meantime, I prepared myself mentally – I know it sounds pompous saying it aloud ( hah! Like the rest of the post doesn't) but really, wrapping my head around the idea of owning it needed a bit of …self-conditioning. Reread Sandman again, and enjoyed myself thoroughly. Read Hy Bender's Sandman Companion, which gave me much deeper insight into the series, as I discovered things about it that I had not realized, or aspects of the story that I had overlooked. (I heartily recommend that you read The Sandman Companion, if you are a fan) And yes, I felt really bad for Mike Dringenberg, because his artwork, even in the Sandman Absolute Edition had taken a beating thanks to the limitations of printing technology. Or probably because the printer was high – the printed page made the blacks of the original pink – PINK! – because the text had to be given prominence.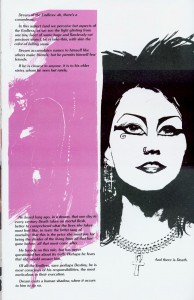 Obviously that was not the only page I got this year. I mean, I do have self-control and all, but  the best-laid plans of mice and men….
But that, as they say, is another story altogether.