Because this is the first volume, and we have time on our hands, let's do this very simply. Grab a chair and some popcorn, and let's go through the stories one by one. It's going to be tough for me, but I guess we can do it for one volume, right?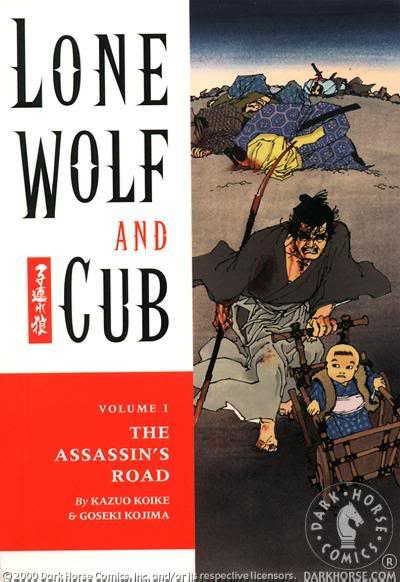 We begin the first arc with a cover by Frank Miller, an image of a blood-smeared samurai who's obviously been in a fight, as the pile of bodies behind him demonstrates. He is hauling a cart in front of him, a cart with a cute baby in it. Remember this image, burn it in your mind, because it's one of the most recurring themes in the series –the innocent child bearing mute witness to his father's bloodshed. Nine stories, and the opening stubs of a series of articles at the back – one called The Ronin Report and the other Culture and Pop Culture. The articles are nothing an average Wikipedia-user wouldn't know about, so we shall ignore them completely.
The First : Son for Hire, Sword For Hire
Long. Very long. With images.