A few years ago, a film-maker called Jaideep Varma began working on a documentary. The subject of his film was a Delhi-based band called Indian Ocean.Until then, Varma's filmography featured a low-budget film called Hulla that came and went without much fuss. I have no idea if it is any good.
Leaving Home, as the documentary came to be called (it's named after one of the band's early songs), is perhaps the first of its kind in India – an up-close-and-personal look at a band that has managed to exist through more than two decades, defying every naysayer concerned about the state of independent music in India. Jamming their way to glory since the eighties, Indian Ocean has survived musical trends, record label shennanigans, and recently, personal tragedy, to become one of the most distinctive musical acts in the country. Their songs range from fiery political poetry set to music to long, meandering instrumentals that soothe and excite at the same time; they combine rustic melodies of the hills with virtuoso chord progressions and bass licks. One of their most well-known songs is a centuries-old Aramaic prayer arranged in their own unique style. The only common element to their music is a rawness, an Indian-ness that is hard to talk about but simple to understand once you listen to them.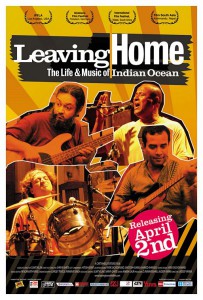 The making of the documentary was, as far as I know, a troubled, rough affair for Mr. Varma. I know he put a lot of his savings into it, and that of his friends. His troubles were further exacerbated when no distributor would pick up the film just because there was no precedent for something like it. In his own words:
Making the film, however, was the easy part. The real struggle began then as there was ostensibly no outlet to release the film. At least that's what the powers-that-are in the industry said repeatedly. "There is just no place to show this." 150 channels on television but not sure where this fits in. Scores of multiplex screens all around India but not sure if even one can be spared to accommodate this. That's what the recurrent theme was when the rounds of producers'/ distributors' offices began. We were laughed out of the room most times…once or twice, quite literally.
The film was completed in 2008. Asheem Chakraborty, the lead singer of Indian Ocean passed away in 2009. The band carried on with its musical journey regardless, with a temporary lead singer and tabla player. Jaideep managed to get a half-hearted theatrical release for his film in 2010, in selected multiplexes in some major cities. It went on to release on Direct-To-Home cable, and then got a DVD release. Word of mouth helped, as did the publicity on Facebook. It won a National Award for Best Arts and Culture film – even there, the producers' credit was mangled during the awards ceremony.
Despite being an Indian Ocean fan, I never managed to catch the theatrical release of the film. I wanted to buy the DVD, but there were too many life-changed going on at that time and I was not buying anything at all. Finally, when they announced the non-availability of the DVD on the Facebook page, I figured I had no alternative but to torrent it. There was just one source, with one seed and 71 people downloading. Never a good sign. But I kept the torrent on, and a few weeks later, it was done.
When I got around to watching it, I found that the video began with a plug for a 286-minute extended edition of the documentary. Which sounded great, but where on earth was it available? Did it release at all? A few hasty Google searches revealed that yes, the longer version had released, and was out of print as well. I went and checked the Facebook page again. They railed against the disinterested producers who were not interested in bringing out more copies of the DVD even though there was a clear demand. But wait, it also mentioned that copies were available on Flipkart for a limited time. I went over and checked the site even though I was fairly sure it would not be there.
But it was! Leaving Home: The Longer Trip, and was being offered at a discount as well. Ordered immediately, and a friend who was in India at that time kindly agreed to accept the shipment on my behalf, and got it over. I got it this weekend. Haven't played it yet, but it's funny how I ended up buying something that I had downloaded just a month ago.
And that, my friends, is how reverse piracy works.