One of the genuinely distressing news of 2011 was the failure of the pilot episode of Locke and Key to be picked up for regular programming. This is bad for three reasons – because Locke and Key is one of the finest comic-books being published right now, and the success of the TV show would have no doubt brought in more readers to the series (consider how many people have read Game of Thrones this year, to get an idea of what I mean). Because from what I gather off internet reviews, the pilot episode is really well-made, with superb casting and a great script. But most of all, it sucks because a lot of shitty TV series got green-lighted at the cost of this. Seriously, makes no sense.
But still, the comic stands on its own. It is written by Joe Hill,  a man who, under normal circumstances, be known as Stephen King's son; but right now, he's known as the guy behind ground-breaking  genre novels such as Horns and Heart-Shaped Box. It is drawn by Chilean artist Gabriel Rodriguez. Together, the two are magical. This book happens to be one of the most perfect collaborations I've seen, where the art enhances the story and vice versa.
Among the things that I love about Locke and Key is that it's among the most structured comics I've read. Not a wasted, throw-away chapter, page or panel on this one. It helps that the story was already planned out into three acts, each act made up of 2 miniseries. This ensures that Hill knows exactly how his story is being framed, giving us just the right amount of information, teasing us with flashbacks and tertiary characters that flicker into the overall plot at the right time. Currently, we are on miniseries #5, entitled Clockworks, where the mythology of the world is being explained by a series of flashbacks. Which brings me to –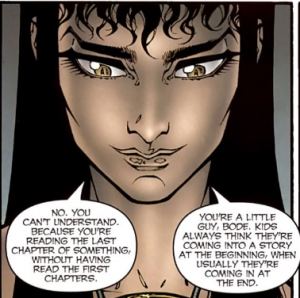 The fact that Locke and Key is one of those rare horror comics that gets horror. Which is not surprising, considering Hill's literary antecedents. But really, do you have any idea how hard it is to do horror in comics without falling back into icky-gore-territory or ho-hum-shock-ending cliches? This book manages to creep into your head in strange ways – through childhood fears, unexpected plot twists, and by a genuinely frightening Big Bad Villain, one that manages to stay one step ahead of the protagonists at nearly every turn.
The first miniseries, Welcome to Lovecraft, introduces us to the principal cast of characters, the Locke family and the three siblings – eldest brother brother Ty, the sister Kinsey and the youngest, six-year old Bode. The death of their father brings them and their mother to their ancestral family home in Lovecraft, Massachusetts, where strange things begin to happen. Bode, for example, finds a strange lady calling for his help from beneath a well. This is also where we start understanding that the tragedy that has befallen the family is not a random incident, but is connected to keys. Keys that do stuff, like turning Bode into a ghost. Or letting people go anywhere they want, or doing distressing things to their psyches.
Finally, Locke and Key is one smart comic that brings unexpected things to the fore on repeated reads. Small example: the second volume is entitled Head Games, and all the covers have a common theme.
In case the image on the right looks a little familiar, here's why – it's a riff on an iconic cover from the 1950s that was used by the US Senate to ban horror and crime comics. This particular cover was printed by EC Comics, run by publisher William Gaines, who founded Mad magazine later on. There is this legendary story of Gaines trying to defend this cover as tasteful in court. He did not do a good job of it – in his defense, he was completely doped up on cough medicine when invited to testify.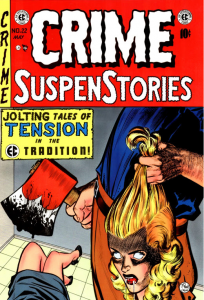 Oh, and the college the Locke kids go to in San Francisco, before they move to Lovecraft? William Gaines Academy. Ha!
But the smartness lies not just in homages or sly winks at the audience – the smartness lies in the way Hill seems to know exactly when to let certain characters take center-stage, or to subvert a known trope at just the right time, or to let a throwaway part of the scenery become a crucial cog in the battle between good and bad. The two, writer and artist, seem to have fun when telling their story, and that fun is infectious! One of my favorite single issues deals with epic battles and mundane day-to-day affairs, and there are those single-panel settings that hide worlds and untold stories in them, the kind that would make lesser writers milk them through crossovers and back-stories. Hill and Rodriguez do it in single wordless panels, the magnificent bastards!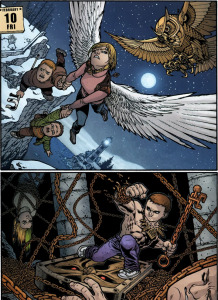 All said and done, what is the series all about? It helps that every chapter starts with a one-page cheat-sheet, that tells you the bare bones of what's going on and where we stand.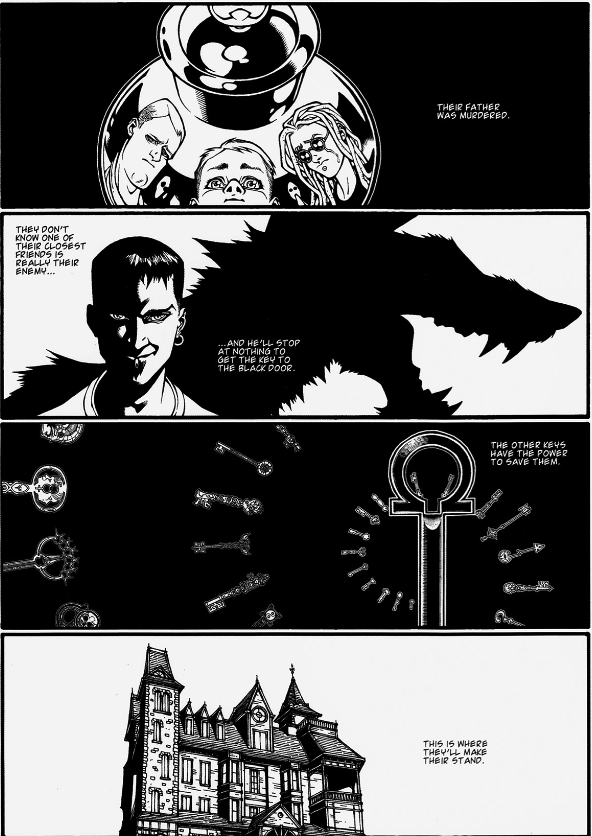 Locke and Key, ladies and gentlemen. The best fucking comic being published right now, BAR NONE. It helps if you get all the chapters and read them at one go, because every miniseries ends with cliff-hangers. And these are not your everyday, how-do-they-get-out-of-this-level cliffhangers, these are the holy-shit-this-did-not-just-fucking-happen kinds, the ones that make you grab for the next book in the series at 4 AM in the morning, even though your eyes are puffy and you've got to be at work at 9.