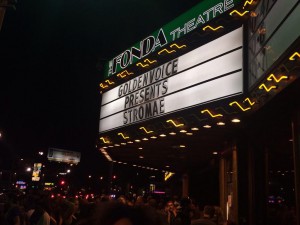 My favorite 2014 concert happened by accident.
'Alors On Danse' exploded into my playlist five years ago with the intensity of an Akira-esque thermonuclear bomb, displacing the current summer dance favorite 'We No Speak Americano'.[ref]Fun fact: Renato Carosone's Sicilian original plays in a scene in the George Clooney movie 'The American', which I watched recently. The song plays on the TV when the actor is sitting down for dinner at a cafe. That brought back memories of my first week in Romania, when in my third visit to a pizzeria near my apartment, I noticed that everybody in the place had gone quiet and were pretending not to glance at me. A quick look at the TV, and I realized why – Raj Kapoor's Awaara was playing on national TV, with subtitles. "Vagabondul", remarked the waiter as everyone, myself included, broke into laughter.[/ref] The song somehow managed to get everything right. The happy marriage of the bass-and-brass phrases, accompanied by what sounded like an over-excited poodle running around yapping in time with the beats – did it matter that I could not understand what the song was saying, other than "let's dance"?
Stromae was due to perform at Los Angeles in October. I knew that in advance, having kept an eye on the events schedule at the Fonda Theater. I was more interested in La Roux and The Tune-Yards who were playing around the same time. I briefly contemplated buying tickets to go see him, but spending $40 on what I thought was a one-hit wonder – not my cup of tea. Besides, tickets weren't sold out, and isn't that a sign that maybe he wasn't cool enough? Yes, shameful admission: sometimes it feels better to get tickets to sold-out shows. Bam!
A few days before the show, my boss – who is Moroccan – remarked that he was interested in Stromae. He had been listening to his new album obsessively, and mentioned that it was really good. Racine Carrée (which means 'square root') was indeed appealing, but did not grab me immediately.That is the thing with music – you need time and patience and maybe a little bit of willingness to get into something new. The one song that sounded super-catchy had the words 'rendezvous' in the chorus, and that was the song I kept humming to myself every now and then. It appeared that tickets were indeed sold out, even though they showed up as available on the website. I did some halfhearted Craigslist-scouring, but to no avail. Stub-hub, never one of my go-to sites, showed obscene prices. My Stromae experience was over before it even began.
About 3 days before the show, a friend sent an email to me and a few others about how her friend was traveling to France and would miss the concert; she was traveling at the same time as well, so would anyone be interested in two tickets at the floor price? I was, and another person in the mailing list that I did not know at the time was, too. And that is how I landed up at the Fonda Theater that October night, maybe one of 10 non French-speaking people in the audience.
My ticket was for the balcony. I tried wheedling my way into the floor, but the security guard, normally more than willing to listen, was unrelenting. The floor was packed, the balcony was too. October in LA is not much different from August in LA, and the air-conditioning – even with an expensive beer – were not enough to quell that feeling of impending heat-related collapse. I found out that the Fonda had a terrace with turf carpeting. It was worth missing the opening act to sit under the stars and contemplate cutting and running. Yes, I was this close to just leaving.
I did not leave. I remember dancing like crazy. I remember a French girl in front of me who did not stop screaming, dancing and singing along throughout the show, and her American boyfriend awkwardly looked at her, shaking his head every time she asked him to dance. Douche. I remember being mesmerized by the strobe lights throbbing in time to the tribal drums of the opening song (it was 'Ta Fete', the first song in Racine Carrée), the crowd chanting along with the chorus. I remember the trippy animations that accompanied 'Humain L'eau', with its nutty, dissonant riff. Stromae taking the piss out of Americans and French people at the same time while talking about french fries ("They are not French and they are not American. They are from Belgium"), neatly seguing into the opening of "Moules Frites". [ref]Obviously, I did not know the song titles back then, it was only afterwards, when I got into the album with the intent of reliving the sounds I heard in the concert that I was able to figure out which song was what.[/ref]The guy had a bum leg, and still managed to dance around like a maniac. He was a bonafide star, I kid you not. If it sounds like I have a gigantic man-crush, yes, I am not denying it.
It was the first concert where the artiste thanked nearly every member of his crew, from the light-man to the costume designer to the chaffeurs. It was one of the craziest encores I had seen in a while. From collapsing on stage while performing the gut-wrenching "Formidable", to being carried in like a stiff mannequin for 'Papaoutai'; from singing an acapella version of the rendezvous song with all the musicians ('Tous les mêmes' is the title), sans microphones, and with the entire audience shushing each other, to just being plain fucking awesome, Stromae did it all. He promised to be back in LA in 2015, and that is one show I won't miss this year.
Racine Carrée has been a constant on my play queue in the second half of the year. It is not just the music. The videos – good lord, the videos are incredible. They also come with sub-titles, an added bonus, and it becomes clearer why this guy is such a phenomenon in Francophone countries. 'Formidable' was shot guerilla-style at a Brussels tram station; Stromae appeared drunk, incoherently shouting at passersby, later accosted by policemen who tell him they are big fans and ask if they should drop him home. 'Ta fete' shows him at his flamboyant best, overseeing a gladiatorial contest in a get-up that comes with a beret, trenchcoat and a microphone cane, how cool is that? 'Tous les mêmes' has him in drag, playing both the male and female adversaries in an eternal war of the sexes, that culminates in a dance-off. It also showcases Stromae's complete unself-consciousness in front of the camera; one minute, he is a rakish nose-picking boor, grabbing at his girlfriend's ass while heading out the door; the other, he is a seething woman remonstrating her boyfriend's lack of interest in her.
The crowd-pleaser of the album is undoubtedly 'Papaoutai' ("Where are you, papa?"), which is ironic considering that this has the saddest setting ever. A kid tries to engage with a glassy-eyed mannequin of a father while other kids have their real dads with them. "Everybody knows how to make babies/ but nobody knows how to make papas. Mister know-it-all would have inherited it, that's it/he probably learnt it while sucking his thumbs", says the lyrics as the song jumps from sadness to anger to resignation, even as it pulsates with thumping beat and a chorus worthy of hosannas. I find the tone of the song- and Stromae's delivery of these lyrics – reminiscent of some of Eminem's best work. Is it worth noting that the artiste's father – a Rwandan architect who later died in the 1994 genocide in his home country – was absent for most of his childhood?