Two things caught me by surprise last week. The first was a book called The Devourers, by a writer named Indra Das. The second was a film called Laal Kaptaan, directed by Navdeep Singh and starring Saif Ali Khan. The two are completely unrelated, but I found them in them examples of the kind of historical fiction I want to read, or at least the kind of treatment that makes me not want to bang my head against a wall.
The Devourers falls squarely in the speculative fiction genre; talking about it is difficult because of the nature of the beast (pun intended). A professor in Kolkata meets a stranger one night, one who claims to be a half-werewolf and consequently, immortal. The stranger piques his interest by telling him a story set in Shahjahanabad, on the banks of the Yamuna, during the time of the reign of the Great Mughals, and then assigns him a responsibility. The story then becomes a retelling of three different individuals' life stories, and an act of violence that weaves these stories together.
One of the reasons I picked up Devourers was the blurb by Mike Carey, he of Lucifer and Girl With All the Gifts fame. The other is the phenomenal cover by Chris Panatier, the kind of illustration you do not see on an Indian publication. The work is in pen and ink and watercolor, and wraps around the book. It captures both the soul of the writing as well as a very specific mood, reminiscent of both illustrators like James Jean and the imagery of great tattoo inkers.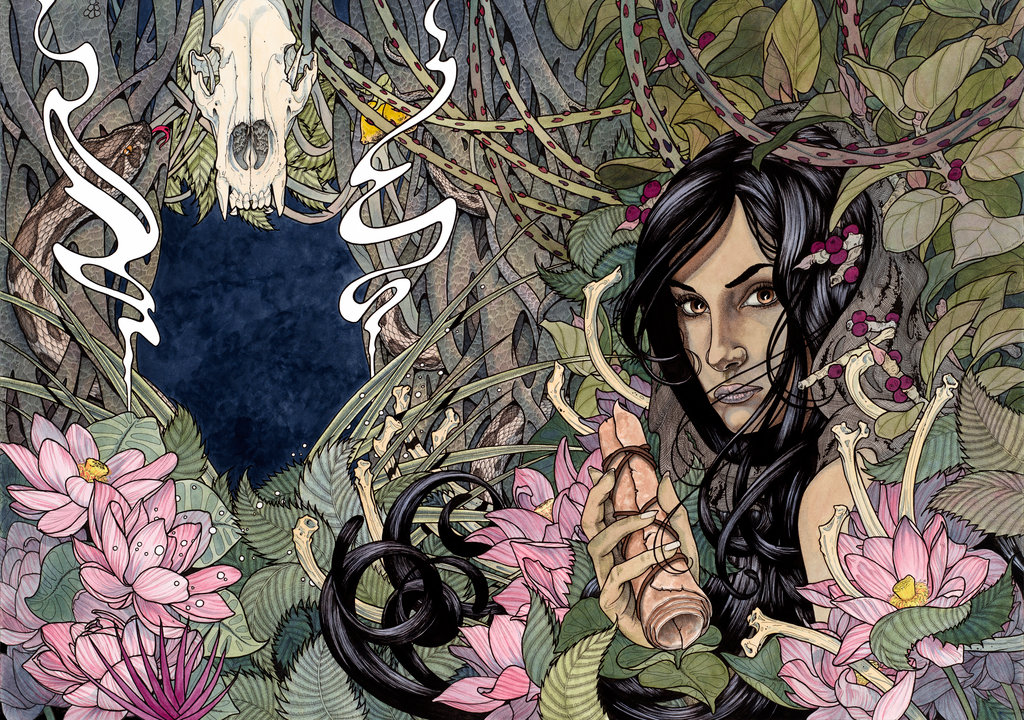 But it was the writing that stayed with me. Das grounds his characters and the locale exceptionally well, bringing to life the mangroves of the Sunderbans and the marketplaces of Shahjahanabad; the moments of tension and terror are narrated with inevitability and poetry. And he grinds together myths and folklore of different cultures to produce the most vivid imagery one can associate with creatures of the supernatural.
The beast was like no animal I'd ever seen on this earth. Glowing red in the flickering light of rain-swathed fires, with its war paint of blood and tattered flesh, which hung like ragged pennants off its spines and slicked fur, it was rakshasa of the Hindus, it was asura, lord among their demons. It was glowing, infernal ifreet of the djinn, it was Iblis made incarnate, rising from cold wet earth instead of the arid sand of the desert. It was a towering impostor god of Europe resurrected in this empty stretch of Shah Jahan's empire and worshipped with fire and violence.

Indra Das – The Devourers
How can I describe what came to my senses, in that silence? Even the birds stopped their screaming, the insects their singing. The smell of it was overpowering. It smelled like birth, the birth of god or demon, raw and animal and steaming in the morning air. Sweet and musk, like frankincense and myrrh; heavy and pungent, like the juice of living things, blood and piss, sweat and spit; rancid and fecund, like waste, shit, and earth. It stank of both life and death, both so intoxicating I found myself flushed with my own blood, my heart aching. I could hear it, feel it breathing, the rumbling of a mountain slumbering through centuries slivered to seconds. It walked to me, twigs snapping sharp under its great hands and feet, soil squelching under its enormous, impossible weight. It was on all fours, or so its steps told me, and yet I could feel its boiling breath, a hot and humid wind on my face as it approached. Even crouched, it was as tall as me.

Indra Das – The Devourers
Usually, when reading a book like this, my worry is that it will end with a set-up to a sequel and an inevitable franchise, the bane of every work in this genre. Thankfully, Das does not fall into that trap. The conclusion involves a transformation, an end that reminds me of the best that outre literature has offered.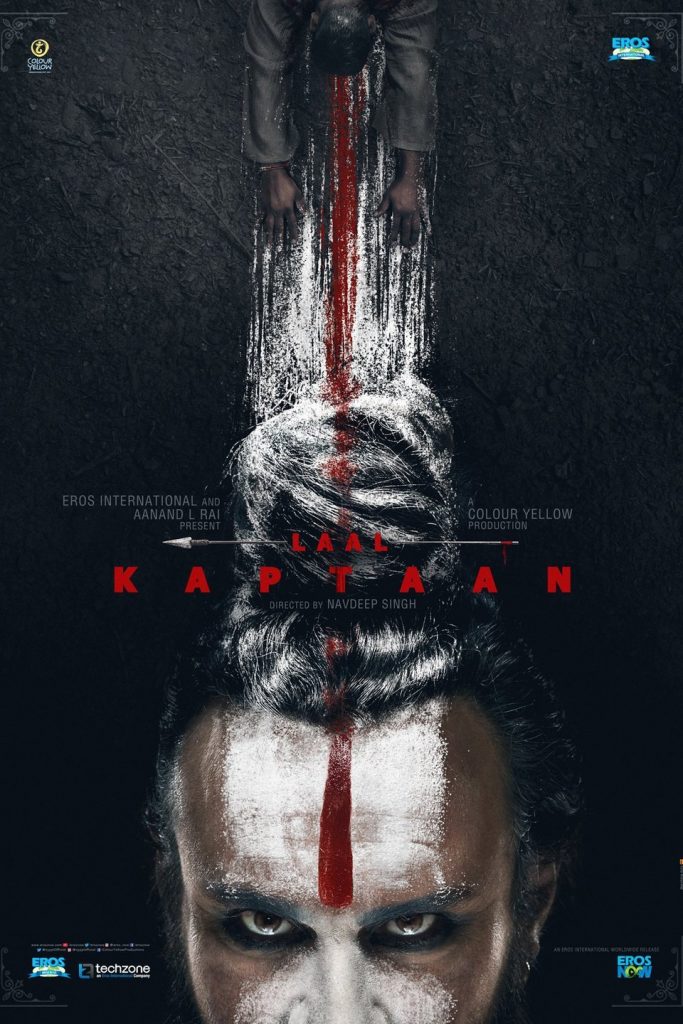 The Devourers is a work about change and acceptance; Laal Kaptaan, on the other hand is a story of revenge, pursuit, and ultimately, destiny. It is a film by a creator whose work I have followed with interest over the years. Navdeep Singh sauntered onto the Indian alternative film scene in 2007 with a local remake of Roman Polanski's Chinatown, set in rural Rajasthan and starring Abhay Deol (remember Abhay Deol? The guy was the poster-child of great Indian cinema in the 2000s, until he crashed and burned his way out of the industry). His sophomore effort NH10, a slow-burn socially conscious thriller, released eight years later in 2015, to considerable more acclaim and box office success. Laal Kaptaan, which released in 2019, alas, failed to find its audience. Possibly because the historical thriller comes at a time when Indian cinema is rewriting history to the tune of Hindutva. The past is sexy only when there is opulence and patriotic fervor kneaded into clear them/us narratives that spoon-feed how great everything was in the past.
Singh obviously does not take this route. Set in the late 1700s (1789, to be precise, if we look at the Battle of Buxar as the narrative lynch-pin), the film follows a Naga ascetic (Saif Ali Khan) on a hunt for a man named Rehmat (played by Manav Vij, who I last saw in Andhadhun last year), with whom he has — to quote Beatrix Kiddo — "unfinished business". The story takes us through some incredible sequences set in the arid landscapes of the Chambal valley, a place already seared in our collective consciousness as a hell-scape where terrible things happen to everyone, good or bad. Saif Ali's character is named Gossain, which I understand is just short-hand for "holy man", so until the end of the movie, he is truly a man with no name. Over the course of his journey, he encounters a mishmash of characters, including a cheroot-smoking bounty hunter accompanied by two hounds, who can literally smell his prey; a veiled prostitute who attempts to hire the protagonist to exact her own revenge, but on finding him unwilling to take up her cause for money, shows him her mutilated face to sway him to her cause; a vertically-challenged Maratha chieftain leading some wayward Pindari warriors, a pack of undisciplined riffraff that refuse to follow orders and pounce like scavengers on corpses lying by the roadside; and Afghan warriors who track the gossain because — I kid you not — "you killed my master, prepare to die".
In case you haven't figured it out already, the movie is a genre-lover's wet dream. It also helps that Singh and co-writer Deepak Venkateshan get their historical details just right. Everything — from weapons to costumes, language to customs — feels authentic and grounded in both era and locale. The characters are splendid — Khan and Vij make for excellent, balanced antagonists when they share the screen; the supporting characters shine regardless of screen time, the lonely widow played by Zoya Hussain, Deepak Dobriyal channeling a bit of Toshiro Mifune, Madan Deodhar as the hapless Maratha captain trying to bring his no-good men under control. My favorite moments are the ones that bring the nonsensical theatrics of neo-historical potboilers into sharp contrast, like the short dance performance in the Maratha tent, or the pragmatic outlook of the characters regarding the British. Or even the grounded notion that this land, in the eighteenth-century, was a complicated place where soldiers bickered and back-stabbed each other, with no grandiose thread of nationalism weaving through it all.
However, much like Dibakar Bannerjee's 2015 Byomkesh Bakshi, all the attention to style and historical detail cannot take away the fact that Laal Kaptaan suffers dreadfully from Sergio Leone syndrome. One wishes the story being told was a little tighter, the pace a little more balanced than the steady canter it sinks into, even in its moments of action. We find our attention divided by too many perspectives; the reveals, including a betrayal in the middle of the story, do not bear the impact that they should. Overall, the film takes too long to weave all its threads together, and it suffers for all that.
The year's best-of lists in Indian film have gone on record saying that 2019 was not as fertile for Indian cinema. I had high hopes about this particular film, based on the trailer, and my overall optimism regarding Singh's storytelling skills. It does feels gratifying that something like Laal Kaptaan gets a theatrical release and at least a degree of star-power behind it. It is the kind of film that I like to recommend to friends, the ones that fall under the radar and can still evoke discussion. Hopefully, a filmmaker like Singh continues to push genre boundaries with his works. Hmm, maybe someone should point him to this werewolf story that is set in Mughal times, by this writer named Indra Das…