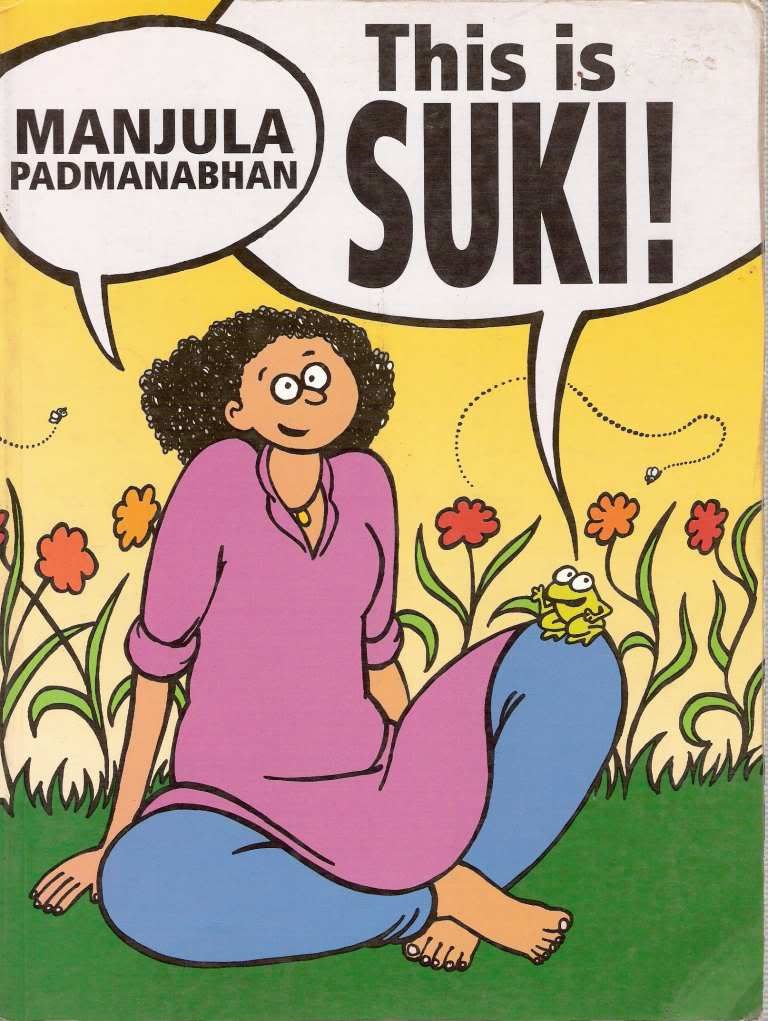 Manjula Padmanabhan's Suki is the greatest comic you will ever read in India.
I was introduced to Manjula Padmanabhan's work through Target, the children's magazine (emphasis on "the"). Now, of course, she's rather well-known for her play Harvest, for she won an Aristotle Onassis award, and for the children's books Mouse Attack and Mouse Invaders ( I have both, thanks!) Did not get Suki until last year, and oh my god, I was blown away. This strip deserves respect, and a lot of our attention, so go right ahead and check out one of the collections.It's witty, it's completely whimsical, it's exquisitely drawn, and it's SO Indian! The strip is full of puns, visual humor, absurdist comedy, and grounded characters all of which feel very universal. I am reminded of beloved strips like Bloom County and Pogo. A huge part of the appeal of the comic is the wonderful hand-lettered dialogue, which almost take on a personality of their own. Look at how the line width changes in the different panels, as Suki gets more and more engrossed in her words. And check out that lovely signature!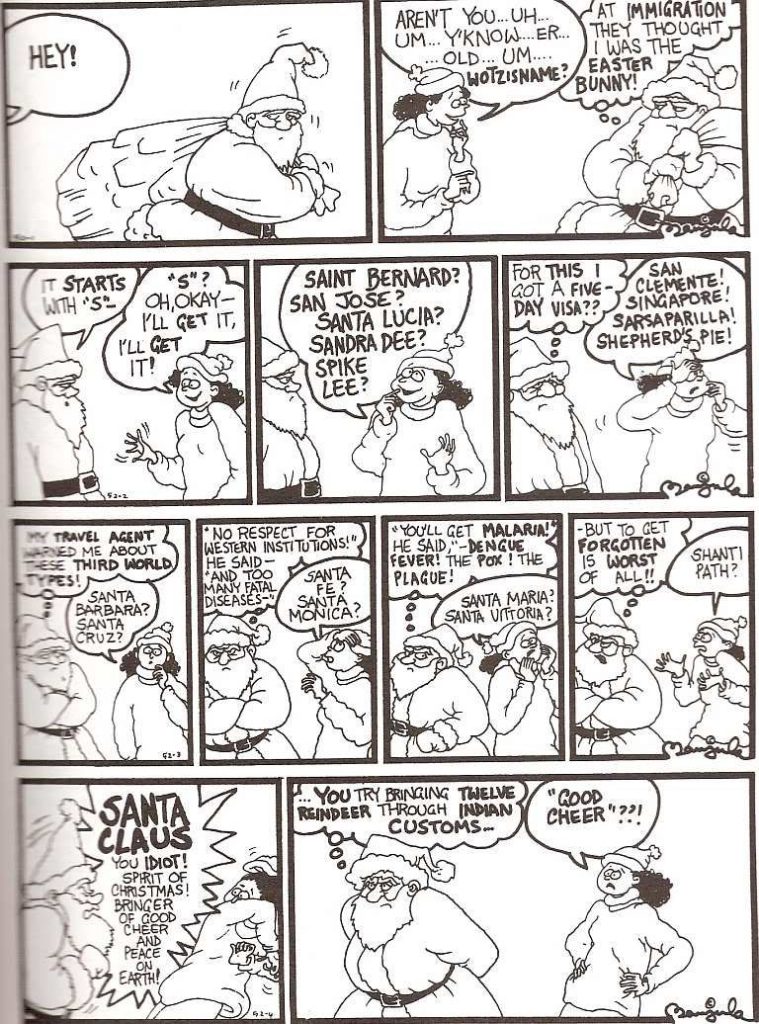 I was lucky enough to find a copy of the original Duckfoot Press release of This is Suki, from where these scans have been taken. Penguin has recently released a copy of "Double Talk: The Best of Suki", it's priced slightly on the higher side (Rs 250) and available in all fine bookstores everywhere.
I thnk this was in the introduction to the collection – it seems not too many people "got" Suki when the strips came out, in the Sunday Observer in 1982. So there used to be loads of letters of complaint from readers who would yell at the editor for allowing such tripe to run in the periodical. Grrrr. Stupid, stupid rat creatures.
Want to check out more Suki? Check out Ms Padmanabhan's blog, where she posts the occasional Suki strip. *Sigh* What I wouldn't do to get one of the original pages….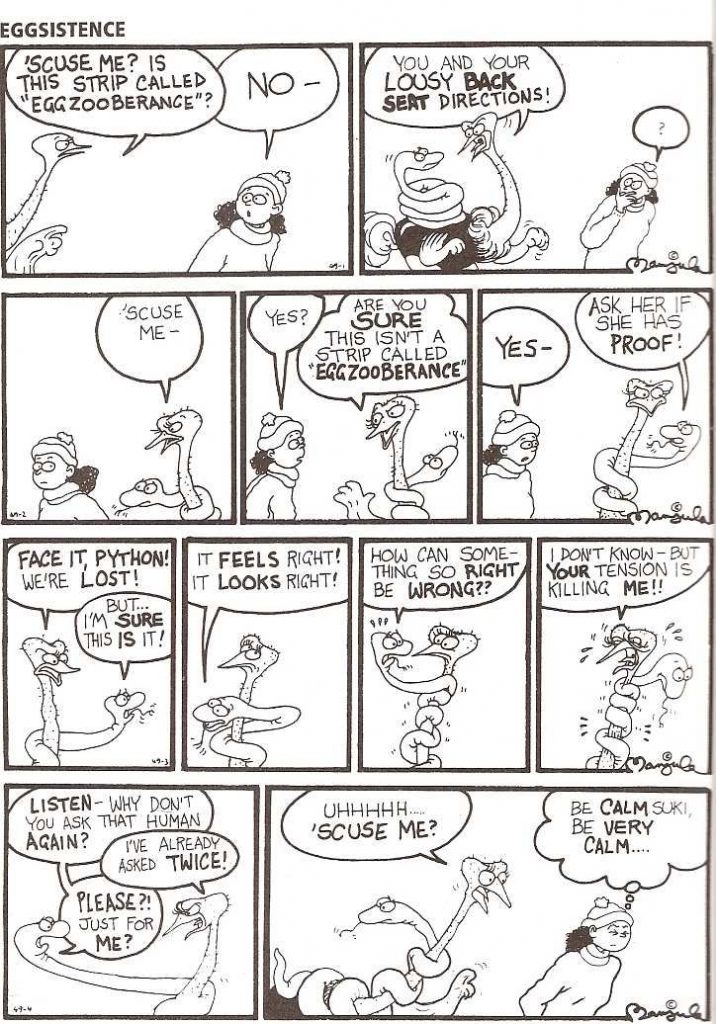 And just to show you that the lady knows her comics, here's a slightly-old Rediff article by her about female characters in comicbooks, and her favourite.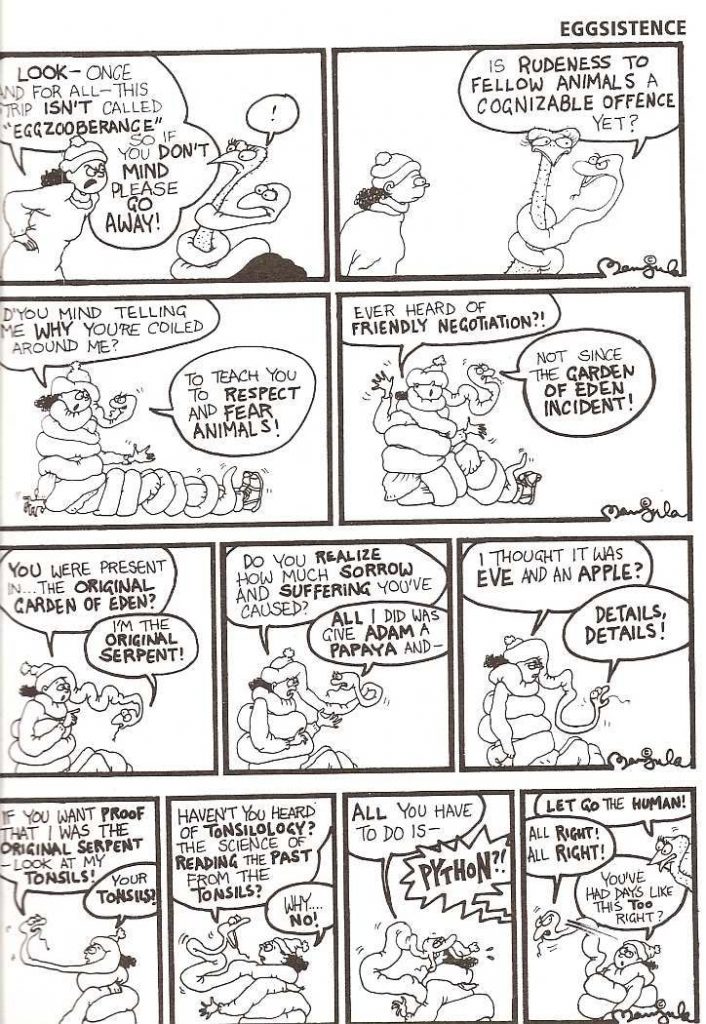 On an aside, another cartoonist I remember from Target was Mala Marwah, who did a strip right below the letters' page. Damned if I remember the name, will just have to go home and flip through my copies. Anyone know what the name of the strip was? It was something like Baiju-Bawra, or maybe a pun on those names.
Standard
It's s a good day when you find a Detective Moochwala collection – one of those Lost Childhood Treasures – in a forgotten corner of a bookshop. Getting it for twenty rupees is an added bonus, true.
This is the part I go into a nostalgia session about Target and Ajit Ninan Matthew and Mooch and Pooch and names like Besan Lal and Bhujiya Singh and Inspector Doodhmalai, but what the heck, fuck it. I am not in the mood for nostalgia right now.
Another interesting find was a hardcover graphic novel called Retief!, based on a sci-fi series I had come across once on the Baen bookshelf. The character was created by a gentleman named Keith Laumer, and Baen has an interesting write-up on him, mirrored in the foreword to the graphic novel. What interested me more than anything else was the artist – Dennis Fujitake – whose earlier collaboration with Jan Strnad, a comic about a dog-faced alien named Dalgoda was another Lost Childhood Treasure, picked up at second (and first) hand bookshops in Guwahati. Fujitake's style is a clean, warm cross between Moebius's linework on The Incal and Varley's soft colours on Ronin (in Dalgoda, that is. This one is black-and-white.) Yummy!
I heard Ranjit Barot's soundtrack to Holiday last night, from a colleague's MP3 CD I whacked. Awesome stuff, really, and just to prove that I support good music regardless of its non-Rahman antecedents, went and bought the CD at lunchtime today. All the songs sung by very aptly-chosen singers – Ranjot Barot's vocals on 'Aashiyan' worth the price of the CD alone. A quick look at the liner notes – not too much of it, unfortunately; too many pictures of Dino Morea and whoever that lady is, along with a couple of obligatory beach-babes in bikinis and a happy-grinny family – reveals that the saxophone solos were by Raghav Sachar. This uncanny Sax-man is the multi-instrumentalist who released a catchy remix album about a year back, full of instrumentals of Asha Bhonsle cabaret numbers, and one that I cannot seem to find anywhere anymore. His latest album sounded very electronic the first time I sampled it, so wasn't too interested. Acoustic drums by Mr Barot himself, flute by Navin. Dominique Carejo's voice appears on a semi-English song, which gets very embarassingly Celine Dion at times, but manages to stay right in the groove. The bulk of the female vocals are by Shreya Ghoshal, and the lady's rocksteady success rate is starting to scare me. All in all, an album that manages to stay in tune without veering into item-number territory. Market logistics dictate the presence of an obligatory dance remix of 'Aashiyan', however, and DJ Nasha does the …umm…honours.
Standard